CBC Negotiations Day 9 – Thursday, June 13, 2019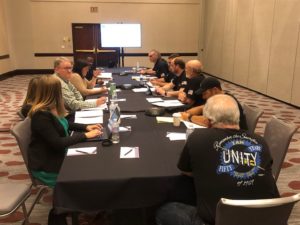 As the second week of negotiations is coming to a close, The Union Coordinated Bargaining Committee (CBC) continues to exchange proposals and have subcommittees meet several times a day. The retirement subcommittee countered the Company late last night and is waiting on the Company's responses. The Company has made minor movement on their proposals to date and are not moving on their overall position. Members in the ranks close to retirement should be concerned about the Company's position. The CBC continues to demand a fair retirement package which provides financial security for the members.
 
The healthcare subcommittee continues to stipulate to the Company that healthcare is a major concern to every union member at every unionized site. Healthcare was a major issue for the membership on the pre-negotiation surveys. Employees of GE work tirelessly producing a product, and in return, their spouses and babies deserve the security of low-cost, high-standard healthcare.
 
The company's theme continues with little movement in the contract language subcommittee. Wages, and a required general wage increase, have still not become a highly-discussed topic. The CBC continues to defend its position to protect all unionized worker's rights.