CBC Negotiations Day 4 – Thursday, June 6, 2019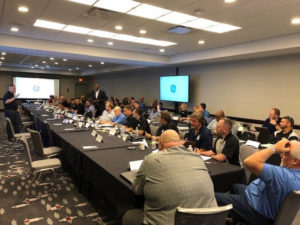 The Union Coordinated Bargaining Committee (CBC) and GE finalized their initial comprehensive packages and exchanged counterproposals today. The company provided initial responses to the CBC's healthcare and retirement proposals. The CBC and GE have some similar proposals in these categories which will continue to be topics of discussion.
The company provided the Unions with wage and overtime proposals during the afternoon session, voicing a continuous message of flexibility, market trends and decreasing rates. IUE-CWA Conference Board Chair and CBC Lead Negotiator Jerry Carney was quick to identify the unreasonableness of the proposals and voiced concern over the ability of the parties to reach an agreement based on the company's initial proposals.
The parties used the late afternoon hours to continue work on proposals, counters, and discussions. Lead Negotiator Carney proposed that the Union and company break into subcommittees to move talks forward on healthcare, retirement and language/wages proposals. Delegates from each of the CBC unions will be represented in the sub committees and proposals from the subcommittees will be dealt with at the main table.