CBC Negotiations Day 2 – June 4, 2019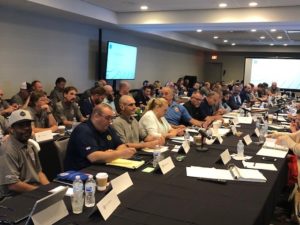 National negotiations resumed between the Union Coordinated Bargaining Committee (CBC) and GE today. The morning consisted of continued discussions on contract language and non-economic proposals. Minor agreement on proposals were found, most were rejected by the opposing party.
 
The morning session concluded with the CBC passing a healthcare proposal outlining a need to protect and expand members' healthcare benefits. GE responded with their own proposals around Active and Retiree health benefits.
 
In the closing session of the second day of bargaining, The CBC provided a wage proposal identifying concerns around inflation, needed wage increases, and the value Union members provide to the company daily. The parties then spent further time analyzing proposals and defining how potential changes would impact the contract.
For continued updates on the negotiations, visit the www.geworkersunited.org