CBC Negotiations Day 15 – Wednesday June 19, 2019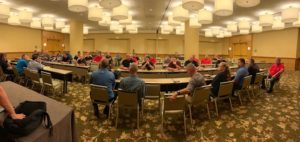 The Union Coordinated Bargaining Committee (CBC) Unions had many delegates travel into Cincinnati Monday. The CBC main table coordinated a full CBC update with all union delegates in attendance and are continuing these updates nightly.
Tuesday, delegates were updated again on the status of negotiations and the projected schedule for the remaining negotiations. The CBC had originally planned to perform a package presentation to the delegates today, however, discussions in subcommittees continue and a final package has not been reached.
Initially, the CBC had identified Thursday, June 20th as the intended wrap up day in Cincinnati. The current process, however, is likely to extend to the expiration of the CBA. The CBC is working hard to bring a fair and equitable package to the membership.
Follow GEWorkersUnited.org for further up-dates.