CBC Negotiations Day 10 – Friday, June 14, 2019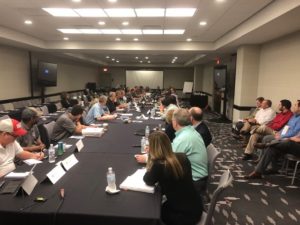 Discussions between the Union Coordinated Bargaining Committee (CBC) and Company continued this tenth day of negotiations. Subcommittees are broken out into three different groups: healthcare, retirement and contract language/wages.
Each union subcommittee throughout the week was assigned the task of discussing, researching and deep diving into each individual proposal. The subcommittee is required to report out to the CBC main table the impact of the Company's proposals and how they affect the membership. The subcommittees also make suggestions on future proposals and changes to the Union CBC main table regarding the Union's comprehensive package. The subcommittee takes main table directives back to the Company for further in-depth presentation and discussions.
The main table CBC, represented by one or more members of each participating Union, provides the final direction to a subcommittee on how action is taken. After thoroughly researching, and in-depth discussions, the CBC main table exchanges proposals with the Company's main table participants to work towards a tentative agreement on behalf of the membership.
The main table and subcommittee representatives have worked extensively throughout the week, with many late nights. They will continue throughout the weekend discussing proposals and identify the best course of action to finalize negotiations towards a fair and equitable contract for the union membership.