Home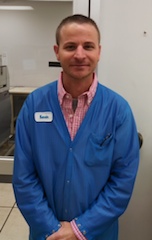 Name: Kevin Smith
Job: Test and Inspections.
Employed at GE: 15 Years.
Hobbies/Interests: Coaching his kids sports.
Important bargaining issues: Pension, job security, and getting back some of the benefits we lost last contract.  Kevin would like to see better wages to close the gap between the new hires(second tier)
Quote:  Like my father always said, the contract took care of not only us, but brothers and sisters that we don't even know yet.